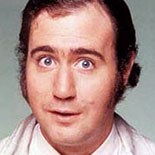 Andrew Geoffrey "Andy" Kaufman (January 17, 1949 – May 16, 1984) was an American entertainer, actor and performance artist.
While often referred to as a comedian, Kaufman did not consider himself to be one. He disdained telling jokes and engaging in comedy as it was traditionally understood, referring to himself instead as a "song-and-dance man." Elaborate ruses and pranks were major elements of his career. His body of work maintains a cult following and he continues to be respected for his original material, performance style, and unflinching commitment to character.
On December 5, 1969, Kaufman learned Transcendental Meditation at college. According to a BBC article, Kaufman used transcendental meditation "to build confidence and take his act to comedy clubs." For the rest of his life, Kaufman meditated and performed yoga three hours a day." He trained as a teacher of transcendental meditation in Majorca, Spain, from February to June 1971.
At Thanksgiving dinner on Long Island, New York in November 1983, several family members openly expressed worry about Kaufman's persistent coughing. He claimed that he'd been coughing for nearly a month, visited his doctor, and been told that nothing was wrong. When he returned to Los Angeles, he consulted a physician, then checked himself into Cedars-Sinai Hospital for a series of medical tests. A few days later, he was diagnosed with a rare type of lung cancer.
After audiences were shocked by his gaunt appearance during January 1984 performances, Kaufman acknowledged that he had an unspecified illness which he hoped to cure with "natural medicine" including a diet of all fruits and vegetables, among other measures. Kaufman received palliative radiotherapy, but by then the cancer had rapidly spread from his lungs to his brain. His last resort was "psychic surgery," a New Age procedure performed in Baguio, Philippines, in March 1984. Kaufman died in a hospital in West Hollywood on May 16, 1984 of kidney failure caused by metastasized large-cell lung carcinoma, and his body was interred in the Beth David Cemetery in Elmont, New York, (Long Island). He was 35 years old.