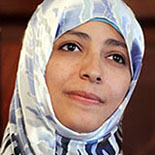 Tawakkol Abdel-Salam Karman (born February 7, 1979) is a Yemeni journalist, politician and senior member of the of Al-Islah political party, and human rights activist.
Karman leads the group "Women Journalists Without Chains," which she co-founded in 2005. She became the international public face of the 2011 Yemeni uprising that is part of the Arab Spring uprisings. She has been called the "Iron Woman" and "Mother of the Revolution" by Yemenis. She is a co-recipient of the 2011 Nobel Peace Prize, becoming the first Yemeni, the first Arab woman, and the second Muslim woman to win a Nobel Prize and the youngest Nobel Peace Laureate to date.
Karman gained prominence in her country after 2005 in her roles as a Yemeni journalist and an advocate for a mobile phone news service denied a license in 2007, after which she led protests for press freedom. She organized weekly protests after May 2007 expanding the issues for reform. She redirected the Yemeni protests to support the "Jasmine Revolution," as she calls the Arab Spring, after the Tunisian people overthrew the government of Zine El Abidine Ben Ali in January 2011. She has been a vocal opponent who has called for the end of President Ali Abdullah Saleh's regime.
At a protest in 2010, a woman attempted to stab her with a jambiya but Karman's supporters managed to stop the assault. According to Tariq Karman, "a senior Yemeni official" threatened his sister Tawakkol with death in a telephone call on 26 January 2011 if she continued her public protests. According to Dexter Filkins, writing in The New Yorker, the official was President Saleh.
Karman claims that her family originated from Anatolia and in a place known as Karaman, which is located in modern Turkey. The Turkish government offered her Turkish citizenship and she accepted her additional citizenship documents from the foreign minister October 11, 2012.
Karman became the first Arab woman, the youngest person ever to become a Nobel Peace Laureate and the category's second Muslim woman. At 32, Tawakkol Karman is the youngest winner of a Nobel Peace Prize.