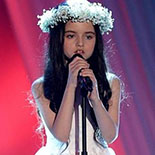 Angelina Jordan Astar (born January 10, 2006), also known as Angelina, is a Norwegian singer who shot to fame after singing classic jazz pieces, including "Gloomy Sunday" and Fly Me to the Moon", which went viral on YouTube.
She won the 2014 season of Norway´s Got Talent, better known as Norske Talenter in Norway. After this win, and with more than 40 million combined YouTube views, she was featured in People magazine, Time, and other news outlets all around the world.
In 2015, Angelina published the book Mellom to hjerter (Between two hearts) illustrated by her grandmother Mery Zamani. The book tells the story of Angelina's meeting with a poor motherless girl in Iran to whom Angelina gives her shoes. In return the girl promises to always pray for Angelina. It's based on a true story which Angelina cites as reason for always performing barefoot.