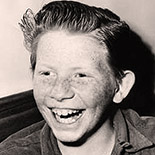 Jimmy Boyd (January 9, 1939 – March 7, 2009) was an American singer, musician, and actor. He was known for his recording of the song "I Saw Mommy Kissing Santa Claus".
Boyd recorded the song "I Saw Mommy Kissing Santa Claus" for Columbia Records, when he was 13. It became a hit, selling over two and a half million records in its first week's release and Boyd's name became known internationally. Columbia Records executives were baffled at the song's popularity. They had already presented Boyd with two gold records. (In the days before the Grammy Award existed, gold records were effectively the Grammys, and they were actually real gold). Boyd's record went to number one on the charts again the following year at Christmas, and continues to sell as a Christmas song. It has reportedly sold more than sixty million copies since its initial release.
When first released, Boyd's record was banned in Boston by the Roman Catholic Church on the grounds it mixed sex with Christmas. Boyd made worldwide news when he went to Boston and met with the leaders of the Church to explain the song. The following Christmas the ban was lifted.