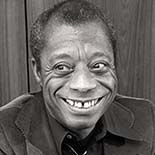 James Arthur Baldwin (August 2, 1924 – December 1, 1987) was an American novelist, playwright, essayist, poet, and activist. His essays, collected in Notes of a Native Son (1955), explore intricacies of racial, sexual, and class distinctions in the Western society of the United States during the mid twentieth-century. Some of Baldwin's essays are book-length, including The Fire Next Time (1963), No Name in the Street (1972), and The Devil Finds Work (1976). An unfinished manuscript, Remember This House, was expanded and adapted for cinema as the Academy Award–nominated documentary film I Am Not Your Negro (2016). One of his novels, If Beale Street Could Talk, was adapted into the Academy-Award-winning film of the same name in 2018, directed and produced by Barry Jenkins.
Baldwin's novels, short stories, and plays fictionalize fundamental personal questions and dilemmas amid complex social and psychological pressures. Themes of masculinity, sexuality, race, and class intertwine to create intricate narratives that run parallel with some of the major political movements toward social change in mid-twentieth-century America, such as the civil rights movement and the gay liberation movement. Baldwin's protagonists are often but not exclusively African American, while gay and bisexual men also frequently feature as protagonists in his literature. These characters often face internal and external obstacles in their search for social- and self-acceptance. Such dynamics are prominent in Baldwin's second novel, Giovanni's Room, which was written in 1956, well before the gay liberation movement.
MUNICH, WINTER 1973 (for Y.S.)
James Baldwin
In a strange house,
a strange bed
in a strange town,
a very strange me
is waiting for you.
Now
it is very early in the morning.
The silence is loud.
The baby is walking about
with his foaming bottle,
making strange sounds
and deciding, after all,
to be my friend.
You
arrive tonight.
How dull time is!
How empty—and yet,
since I am sitting here,
lying here,
walking up and down here,
waiting,
I see
that time's cruel ability
to make one wait
is time's reality.
I see your hair
which I call red.
I lie here in this bed.
Someone teased me once,
a friend of ours—
saying that I saw your hair red
because I was not thinking
of the hair on your head.
Someone also told me,
a long time ago:
my father said to me,
It is a terrible thing,
son,
to fall into the hands of the living God.
Now,
I know what he was saying.
I could not have seen red
before finding myself
in this strange, this waiting bed.
Nor had my naked eye suggested
that color was created
by the light falling, now,
on me,
in this strange bed,
waiting
where no one has ever rested!
The streets, I observe,
are wintry.
It feels like snow.
Starlings circle in the sky,
conspiring,
together, and alone,
unspeakable journeys
into and out of the light.
I know
I will see you tonight.
And snow
may fall
enough to freeze our tongues
and scald our eyes.
We may never be found again!
Just as the birds above our heads
circling
are singing,
knowing
that, in what lies before them,
the always unknown passage,
wind, water, air,
the failing light
the failing night
the blinding sun
they must get the journey done.
Listen.
They have wings and voices
are making choices
are using what they have.
They are aware
that, on long journeys,
each bears the other,
whirring,
stirring
love occurring
in the middle of the terrifying air.