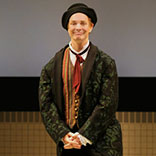 William Mills "Bill" Irwin (born April 11, 1950) is an American actor and clown noted for his contribution to the renaissance of American circus during the 1970s.
He is known for his vaudeville-style stage performances, and has also made a number of appearances on film and television and won a Tony Award for his role in Who's Afraid of Virginia Woolf on Broadway. Children know him as Mr. Noodle on Sesame Street's Elmo's World.
Irwin was born in Santa Monica, California, the son of Elizabeth (née Mills), a teacher, and Horace G. Irwin, an aerospace engineer. He graduated from Oberlin College in 1973 and attended Ringling Brothers and Barnum & Bailey Clown College the following year. In 1975, he helped found the Pickle Family Circus in San Francisco, California. He left the company in 1979, and decided to pursue stage work.