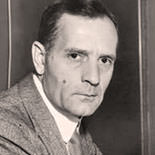 Edwin Powell Hubble (November 20, 1889 – September 28, 1953) was an American astronomer.
Hubble played a crucial role in establishing the field of extragalactic astronomy and is generally regarded as one of the most important observational cosmologists of the 20th century. Hubble is known for showing that the recessional velocity of a galaxy increases with its distance from the earth, implying the universe is expanding, known as "Hubble's law", although a preliminary version of this relation was proposed by Georges Lemaître two years earlier in a less prominent journal.
Edwin Hubble is also known for providing substantial evidence that many objects then classified as "nebulae" were actually galaxies beyond the Milky Way. A decade before, the American astronomer Vesto Slipher had provided the first evidence that the light from many of these nebulae was strongly red-shifted, indicative of high recession velocities. Hubble's name is most widely recognized for the Hubble Space Telescope which was named in his honor, with a model prominently displayed in his hometown of Marshfield, Missouri.