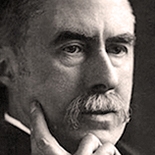 Alfred Edward Housman (March 26, 1859 – April 30, 1936), known as A. E. Housman, was an English classical scholar and poet.
Housman was counted one of the foremost classicists of his age, and has been ranked as one of the greatest scholars of all time, and on the strength and quality of his work, was appointed Professor of Latin at University College London and later, at Cambridge.
LOITERING WITH A VACANT EYE
A. E. Housman
Loitering with a vacant eye
Along the Grecian gallery,
And brooding on my heavy ill,
I met a statue standing still.
Still in marble stone stood he,
And stedfastly he looked at me.
"Well met," I thought the look would say,
"We both were fashioned far away;
We neither knew, when we were young,
These Londoners we live among."
Still he stood and eyed me hard,
An earnest and a grave regard:
"What, lad, drooping with your lot?
I too would be where I am not.
I too survey that endless line
Of men whose thoughts are not as mine.
Years, ere you stood up from rest,
On my neck the collar prest;
Years, when you lay down your ill,
I shall stand and bear it still.
Courage, lad, 'tis not for long:
Stand, quit you like stone, be strong."
So I thought his look would say;
And light on me my trouble lay,
And I stept out in flesh and bone
Manful like the man of stone.
=======
STARS, I HAVE SEEN THEM FALL
A. E. Housman
Stars, I have seen them fall,
But when they drop and die
No star is lost at all
From all the star-sown sky.
The toil of all that be
Helps not the primal fault;
It rains into the sea,
And still the sea is salt.