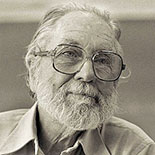 Myles Falls Horton (July 9, 1905 – January 19, 1990) was an American educator, socialist and cofounder of the Highlander Folk School, famous for its role in the Civil Rights Movement (Movement leader James Bevel called Horton "The Father of the Civil Rights Movement").
Horton taught and heavily influenced most of the era's leaders. They included Dr. Martin Luther King Jr., Rosa Parks (who studied with Horton shortly before her decision to keep her seat on the Montgomery, Alabama bus in 1955), John Lewis, James Bevel, Bernard Lafayette, Ralph Abernathy, John B. Thompson, and many others.
A poor white man from Savannah in West Tennessee, Horton's social and political views were strongly influenced by theologian Reinhold Niebuhr, under whom he studied at the Union Theological Seminary in New York City. Along with educator Don West and Methodist minister James A. Dombrowski of New Orleans, Horton founded the Highlander Folk School (now Highlander Research and Education Center) in Monteagle in his native Tennessee in 1932. He remained its director until 1973, traveling with it to reorganize in Knoxville after the state shut it down in 1961.
Horton and West had both traveled to Denmark to study its folk schools, centers for adult education and community empowerment. The resulting school in Monteagle, Tennessee was based on a concept originating in Denmark: "that an oppressed people collectively hold strategies for liberation that are lost to its individuals . . . The Highlander School had been a haven for the South's handful of functional radicals during the thirties and the essential alma mater for the leaders of the CIO's fledgling southern organizing drives." (McWhorter) The school was created to educate and empower adults for social change.
The term "communist" was applied to Horton's teachings and the Highlander School because of the school's philosophy of bringing whites and blacks together, in violation of segregation laws. The school advocated for the working class and the poor and the school's teachings focused on heightening activism. Rosa Parks was heavily influenced by Myles Horton and the Highlander School. Just prior to her famous refusal to give up her seat on a bus, Parks visited the Highlander School where she found the "courage to feel we were not alone."(Highlander School 1).
Horton was influenced early on by his work with poor mountain people in Ozone, Tennessee. From them, he learned that a free discussion of problems, without indoctrination to any preconceived ideas, generated vitality and brought out ideas from within the group. He wanted blacks and whites to meet and improve their lives. Horton envisioned a place for liberals and Southern radicals to come together. He applied this concept to the Highlander School in order to create an atmosphere for social change (Ayers 1091).
Horton's quest to create and maintain the Highlander School was opposed by Southern law enforcement. In 1959, the school was accused of violating segregation and selling alcohol. Adults at the school were allowed to leave coins when they took beer out of the refrigerator at the school. The school was convicted and shut down. Horton immediately applied for a new charter and reopened the school (Highlander School 2).
Today the Highlander focuses on the social consequences related to environmental problems. Horton was also heavily influenced by his religious background. He was believed in a society where there was justice for all. He attended the radical Union Theological Seminary and joined the Social Gospel Movement. The Social Gospel movement believed that if Christianity's principles were applied to social problems, there could be a heaven on earth (Braden 26).
In their 1985 documentary You Got to Move, Lucy Massie Phenix and Veronica Selver prominently featured Horton and the Highlander School. Horton also inspired the founding of the Myles Horton Organization at the University of Tennessee in 1986. The group organized numerous protests and events in the Chattanooga, Tennessee area, including demonstrations to counter the Ku Klux Klan, and the construction of a shantytown on campus to encourage the university to divest from South Africa.