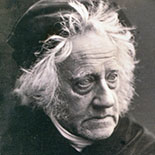 Sir John Frederick William Herschel, 1st Baronet, (March 7, 1792 – May 11, 1871) was an English polymath, mathematician, astronomer, chemist, inventor, and experimental photographer, who in some years also did valuable botanical work.
He was the son of Mary Baldwin and astronomer William Herschel and the father of twelve children.
Herschel made numerous important contributions to photography. He made
improvements in photographic processes, particularly in inventing the cyanotype process and variations (such as the chrysotype), the precursors of the modern blueprint process. In 1839, he made a photograph on glass, which still exists, and experimented with color reproduction, noting that rays of different parts of the spectrum tended to impart their own color to a photographic paper. Herschel made experiments using photosensitive emulsions of vegetable juices, called phytotypes and published his discoveries in the Philosophical Transactions of the Royal Society of London in 1842. He collaborated in the early 1840s with Henry Collen, portrait painter to Queen Victoria. Herschel originally discovered the platinum process on the basis of the light sensitivity of platinum salts, later developed by William Willis.
Herschel coined the term photography in 1839. He may, however, have been preceded by Brazilian Hércules Florence, who used the French equivalent, photographie, in private notes which one historian dates to 1834. Herschel was also the first to apply the terms negative and positive to photography.