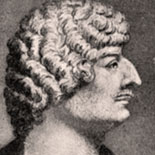 Robert Herrick (August 24, 1591 – October 15, 1674) was a 17th-century English lyric poet and cleric.
He is best known for his book of poems, Hesperides. This includes the carpe diem poem To the Virgins, To Make Much of Time, with the first line Gather ye rosebuds while ye may.
TO THE VIRGINS, TO MAKE MUCH OF TIME
Robert Herrick
Gather ye rose-buds while ye may:
Old Time is still a-flying;
And this same flower that smiles to-day,
To-morrow will be dying.
The glorious lamp of heaven, the Sun,
The higher he's a-getting,
The sooner will his race be run,
And nearer he's to setting.
That age is best, which is the first,
When youth and blood are warmer;
But being spent, the worse, and worst
Times, still succeed the former.
–Then be not coy, but use your time,
And while ye may, go marry;
For having lost but once your prime,
You may for ever tarry.
============
UPON THE NIPPLES OF JULIA'S BREAST
Robert Herrick
Have ye beheld (with much delight)
A red rose peeping through a white?
Or else a cherry (double graced)
Within a lily? Centre placed?
Or ever marked the pretty beam
A strawberry shows half drowned in cream?
Or seen rich rubies blushing through
A pure smooth pearl, and orient too?
So like to this, nay all the rest,
Is each neat niplet of her breast.