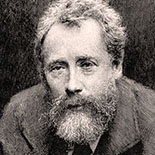 William Ernest Henley (August 23, 1849 – July 11, 1903) was an English poet, critic and editor, best remembered for his 1875 poem "Invictus".
At the age of 12, Henley fell victim to tuberculosis of the bone. A few years later, the disease progressed to his foot, and physicians announced that the only way to save his life was to amputate directly below the knee. It was amputated when he was 25. In 1867, he successfully passed the Oxford local examination as a senior student. In 1875, he wrote the "Invictus" poem from a hospital bed. Despite his disability, he survived with one foot intact and led an active life until his death at the age of 53.
In the 2009 movie Invictus, produced and directed by Clint Eastwood, the poem is referenced several times. It becomes the central inspirational gift from Nelson Mandela, played by Morgan Freeman, to Springbok rugby team captain François Pienaar, played by Matt Damon, in advance of the post-apartheid Rugby World Cup hosted in 1995 by South Africa and won by the underdog Springboks. The poem is recited by the character Mandela as the character Pienaar and the team visit Robben Island and Pienaar imagines Mandela and fellow prisoners as they had been, there. The movie was based on the book Playing the Enemy: Nelson Mandela and the Game that Made a Nation by John Carlin.
The poem was also referenced by Oklahoma City bomber Timothy McVeigh as his last words before his execution.
AT THANKSGIVING
William Henley
From brief delights that rise to me
Out of unfathomable dole,
I thank whatever gods there be
For mine unconquerable soul.
In the strong clutch of Circumstance
It has not winced, nor groaned aloud.
Before the blows of eyeless chance
My head is bloody, but unbowed.
I front unfeared the threat of space
And dwindle into dark again.
My work is done, I take my place
Among the years that wait for men.
My life, my broken life must be
One unsuccourable dole.
I thank the gods- they gave to me
A dauntless and defiant soul.
=======
INVICTUS
William Henley
Out of the night that covers me,
Black as the Pit from pole to pole,
I thank whatever gods may be
For my unconquerable soul.
In the fell clutch of circumstance
I have not winced nor cried aloud.
Under the bludgeonings of chance
My head is bloody, but unbowed.
Beyond this place of wrath and tears
Looms but the Horror of the shade,
And yet the menace of the years
Finds, and shall find, me unafraid.
It matters not how strait the gate,
How charged with punishments the scroll.
I am the master of my fate:
I am the captain of my soul.