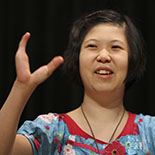 Lee Hee-ah (born July 9, 1985) is a South Korean pianist.
Lee was born with only two fingers on each hand. The thumb of her left hand does not have any bones. At age three, both her legs were amputated below the knee. The prosthetic feet she relies on to walk are soft and hurt very easily, and because of this she cannot walk for long periods of time.
When Lee was seven years old, her mother started her on the piano to train her hands, which at the time could not even hold a pencil. However, the piano later became a source of inspiration to her. She was said to have worked on one passage from Chopin's Fantaisie-Impromptu for five years.
In 1992, she won the First Prize at the South Korean National Student Music Contest, and has since won many more contests and has also played in many solo-concerts along with playing with many well-known artists.