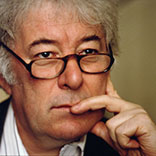 Seamus Justin Heaney, (April 13, 1939 – August 30, 2013) was an Irish poet, playwright, translator and lecturer, and the recipient of the 1995 Nobel Prize in Literature.
In the early 1960s, he became a lecturer in Belfast after attending university there and began to publish poetry. He lived in Sandymount, Dublin, from 1972 until his death.
Heaney was a professor at Harvard from 1981 to 1997 and its Poet in Residence from 1988 to 2006. From 1989 to 1994 he was also the Professor of Poetry at Oxford and in 1996 was made a Commandeur de l'Ordre des Arts et Lettres. Other awards that he received include the Geoffrey Faber Memorial Prize (1968), the E. M. Forster Award (1975), the PEN Translation Prize (1985), the Golden Wreath of Poetry (2001), T. S. Eliot Prize (2006) and two Whitbread Prizes (1996 and 1999). In 2012, he was awarded the Lifetime Recognition Award from the Griffin Trust For Excellence In Poetry. His literary papers are held by the National Library of Ireland.
ACT OF UNION
Seamus Heaney
I
To-night, a first movement, a pulse,
As if the rain in bogland gathered head
To slip and flood: a bog-burst,
A gash breaking open the ferny bed.
Your back is a firm line of eastern coast
And arms and legs are thrown
Beyond your gradual hills. I caress
The heaving province where our past has grown.
I am the tall kingdom over your shoulder
That you would neither cajole nor ignore.
Conquest is a lie. I grow older
Conceding your half-independant shore
Within whose borders now my legacy
Culminates inexorably.
II
And I am still imperially
Male, leaving you with pain,
The rending process in the colony,
The battering ram, the boom burst from within.
The act sprouted an obsinate fifth column
Whose stance is growing unilateral.
His heart beneath your heart is a wardrum
Mustering force. His parasitical
And ignorant little fists already
Beat at your borders and I know they're cocked
At me across the water. No treaty
I foresee will salve completely your tracked
And stretchmarked body, the big pain
That leaves you raw, like opened ground, again
=======
(Excerpt)
THE CURE AT TROY
Seamus Heaney
Human beings suffer,
They torture one another,
They get hurt and get hard.
No poem or play or song
Can fully right a wrong
Inflicted and endured.
The innocent in gaols
Beat on their bars together.
A hunger-striker's father
Stands in the graveyard dumb.
The police widow in veils
Faints at the funeral home.
History says, don't hope
On this side of the grave.
But then, once in a lifetime
The longed-for tidal wave
Of justice can rise up,
And hope and history rhyme.
So hope for a great sea-change
On the far side of revenge.
Believe that further shore
Is reachable from here.
Believe in miracle
And cures and healing wells.
Call miracle self-healing:
The utter, self-revealing
Double-take of feeling.
If there's fire on the mountain
Or lightning and storm
And a god speaks from the sky
That means someone is hearing
The outcry and the birth-cry
Of new life at its term.