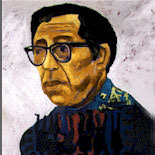 Robert Hayden (August 4, 1913 – February 25, 1980) was an American poet, essayist, educator.
He was appointed Consultant in Poetry to the Library of Congress in 1976. On April 21, 2012, a U.S. Postage Stamp, within a pane of 10 Twentieth Century Poets, was issued featuring Hayden.
Born Asa Bundy Sheffey in 1913, Robert Hayden was raised in a poor neighborhood in Detroit. He had an emotionally tumultuous childhood and was shuttled between the home of his parents and that of a foster family, who lived next door. Because of impaired vision, he was unable to participate in sports, but was able to spend his time reading. In 1932, he graduated from high school and, with the help of a scholarship, attended Detroit City College (later Wayne State University).
Hayden published his first book of poems, Heart-Shape in the Dust, in 1940. He enrolled in a graduate English Literature program at the University of Michigan where he studied with W. H. Auden. Auden became an influential critical guide in the development of Hayden's writing. Hayden admired the work of Edna St. Vincent Millay, Elinor Wiley, Carl Sandburg, and Hart Crane, as well as the poets of the Harlem Renaissance, Langston Hughes, Countee Cullen, and Jean Toomer. He had an interest in African-American history and explored his concerns about race in his writing.
Hayden's poetry gained international recognition in the 1960s and he was awarded the grand prize for poetry at the First World Festival of Negro Arts in Dakar, Senegal, in 1966 for his book Ballad of Remembrance. In 1976, he became the first black American to be appointed as Consultant in Poetry to the Library of Congress (later called the Poet Laureate). He died in Ann Arbor, Michigan, in 1980.
FULL MOON
Robert Hayden
No longer throne of a goddess to whom we pray,
no longer the bubble house of childhood's
tumbling Mother Goose man,
The emphatic moon ascends–
the brilliant challenger of rocket experts,
the white hope of communications men.
Some I love who are dead
were watchers of the moon and knew its lore;
planted seeds, trimmed their hair,
Pierced their ears for gold hoop earrings
as it waxed or waned.
It shines tonight upon their graves.
And burned in the garden of Gethsemane,
its light made holy by the dazzling tears
with which it mingled.
And spread its radiance on the exile's path
of Him who was The Glorious One,
its light made holy by His holiness.
Already a mooted goal and tomorrow perhaps
an arms base, a livid sector,
the full moon dominates the dark.
==========
ICE STORM
Robert Hayden
Unable to sleep, or pray, I stand
by the window looking out
at moonstruck trees a December storm
has bowed with ice.
Maple and mountain ash bend
under its glassy weight,
their cracked branches falling upon
the frozen snow.
The trees themselves, as in winters past,
will survive their burdening,
broken thrive. And am I less to You,
my God, than they
=========
THOSE WINTER SUNDAYS
Robert Hayden
Sundays too my father got up early
and put his clothes on in the blue-black cold,
then with cracked hands that ached
from labor in the weekday weather made
banked fires blaze. No one ever thanked him.
I'd wake and hear the cold splintering, breaking.
When the rooms were warm, he'd call,
and slowly I would rise and dress,
fearing the chronic angers of that house,
Speaking indifferently to him,
who had driven out the cold