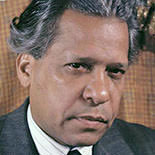 Nicolás Cristóbal Guillén Batista (July 10, 1902 – July 16, 1989) was a Cuban poet, journalist, political activist, and writer. He is best remembered as the national poet of Cuba.
GET SOME DOUGH
Nicolas Guillen
Get some silver,
go get some dough for us!
Cuz I'm not goin one step more:
we're down to just rice and crackers,
that's it.
Yeah, I know how things are,
but hey, my Guy – a person's gotta eat:
so get some money,
go get it,
else I'm gonna beat it.
Then they'll call me a 'no good' woman
and won't want nothin' to do with me. But
Love with Hunger? Hell no!
There's so many pretty new shoes out there, dammit!
So many wristwatches, compadre!
Hell – so many luxuries we might have, my Man!
===============
I HAVE
Nicolás Guillén
When I see and touch myself,
I, Juan with Nothing only yesterday,
and Juan with Everything today,
and today with everything,
I turn my eyes and look,
I see and touch myself,
and ask myself, how this could have been.
I have, let's see,
I have the pleasure of going about my country,
owner of all there is in it,
looking closely at what
I did not or could not have before.
I can say cane,
I can say mountain,
I can say city,
say army,
now forever mine and yours, ours,
and the vast splendor of
the sunbeam, star, flower.
I have, let's see,
I have the pleasure of going,
me, a farmer, a worker, a simple man,
I have the pleasure of going
(just an example)
to a bank and speak to the manager,
not in English,
not in "Sir,"but in compañero as we say in Spanish.
I have, let's see,
that being Black
no one can stop meat the door of a dance hall or bar.
Or even on the rug of a hotel
scream at me that there are no rooms,
a small room and not a colossal one,
a tiny room where I can rest.
I have, let's see,
that there are no rural police
to seize me and lock me in a precinct jail,
or tear me from my land and cast me
in the middle of the highway.
I have that having the land I have the sea,
no country clubs,
no high life,
no tennis and no yachts,
but, from beach to beach and wave on wave,
gigantic blue open democratic:
in short, the sea.
I have, let's see,
that I have learned to read,
to count,
I have that I have learned to write,
and to think,
and to laugh.
I have… that now I have
a place to work
and earn
what I have to eat.
I have, let's see,
I have what I had to have.