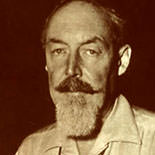 Terence James Stannus Gray (September 14, 1895 – January 5, 1986), better known by the pen name Wei Wu Wei, was a 20th-century Taoist philosopher and writer.
All is am is "seeing" when I see,
All I am is "hearing" when I hear,
All I am is "sentience" when I feel,
All I am is "understanding" when I know.
True seeing is non-seeing — no one looking.
True hearing is non-hearing — no one listening.
True action is non-action — no one doing.
True thinking is non-thinking — no one thinking.
Spontaneity alone is non-volitional — and there is no I.