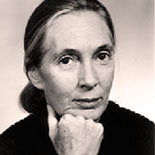 Dame Jane Morris Goodall, (born Valerie Jane Morris-Goodall on April 3, 1934) is a British primatologist, ethologist, anthropologist, and UN Messenger of Peace.
Considered to be the world's foremost expert on chimpanzees, Goodall is best known for her 45-year study of social and family interactions of wild chimpanzees in Gombe Stream National Park, Tanzania. She is the founder of the Jane Goodall Institute and the Roots & Shoots program, and she has worked extensively on conservation and animal welfare issues. She has served on the board of the Nonhuman Rights Project since its founding in 1996.
THE OLD WISDOM
Jane Goodall

When the night wind makes the pine trees creak
And the pale clouds glide across the dark sky,
Go out my child, go out and seek
Your soul: The Eternal I.
For all the grasses rustling at your feet
And every flaming star that glitters high
Above you, close up and meet
In you: The Eternal I.
Yes, my child, go out into the world; walk slow
And silent, comprehending all, and by
and by Your soul, the Universe, will know
Itself: the Eternal I.