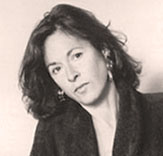 Louise Elisabeth Glück (born April 22, 1943) is an American poet.
She was appointed Poet Laureate Consultant in Poetry to the Library of Congress in 2003, after serving as a Special Bicentennial Consultant three years prior in 2000.
A FANTASY
Louise Glück
I'll tell you something: every day
people are dying. And that's just the beginning.
Every day, in funeral homes, new widows are born,
new orphans. They sit with their hands folded,
trying to decide about this new life.
Then they're in the cemetery, some of them
for the first time. They're frightened of crying,
sometimes of not crying. Someone leans over,
tells them what to do next, which might mean
saying a few words, sometimes
throwing dirt in the open grave.
And after that, everyone goes back to the house,
which is suddenly full of visitors.
The widow sits on the couch, very stately,
so people line up to approach her,
sometimes take her hand, sometimes embrace her.
She finds something to say to everybody,
thanks them, thanks them for coming.
In her heart, she wants them to go away.
She wants to be back in the cemetery,
back in the sickroom, the hospital. She knows
it isn't possible. But it's her only hope,
the wish to move backward. And just a little,
not so far as the marriage, the first kiss.
=========
A MYTH OF DEVOTION
Louise Glück
When Hades decided he loved this girl
he built for her a duplicate of earth,
everything the same, down to the meadow,
but with a bed added.
Everything the same, including sunlight,
because it would be hard on a young girl
to go so quickly from bright light to utter darkness
Gradually, he thought, he'd introduce the night,
first as the shadows of fluttering leaves.
Then moon, then stars. Then no moon, no stars.
Let Persephone get used to it slowly.
In the end, he thought, she'd find it comforting.
A replica of earth
except there was love here.
Doesn't everyone want love?
He waited many years,
building a world, watching
Persephone in the meadow.
Persephone, a smeller, a taster.
If you have one appetite, he thought,
you have them all.
Doesn't everyone want to feel in the night
the beloved body, compass, polestar,
to hear the quiet breathing that says
I am alive, that means also
you are alive, because you hear me,
you are here with me. And when one turns,
the other turns—
That's what he felt, the lord of darkness,
looking at the world he had
constructed for Persephone. It never crossed his mind
that there'd be no more smelling here,
certainly no more eating.
Guilt? Terror? The fear of love?
These things he couldn't imagine;
no lover ever imagines them.
He dreams, he wonders what to call this place.
First he thinks: The New Hell. Then: The Garden.
In the end, he decides to name it
Persephone's Girlhood.
A soft light rising above the level meadow,
behind the bed. He takes her in his arms.
He wants to say I love you, nothing can hurt you
but he thinks
this is a lie, so he says in the end
you're dead, nothing can hurt you
which seems to him
a more promising beginning, more true.
==========
AUBADE
Louise Glück
Today above the gull's call
I heard you waking me again
to see that bird, flying
so strangely over the city,
not wanting
to stop, wanting
the blue waste of the sea—
Now it skirts the suburb,
the noon light violent against it:
I feel its hunger
as your hand inside me,
a cry
so common, unmusical—
Ours were not
different. They rose
from the unexhausted
need of the body
fixing a wish to return:
the ashen dawn, our clothes
not sorted for departure.
=======
THE ENCOUNTER
Louise Glück
You came to the side of the bed
and sat staring at me.
Then you kissed me—I felt
hot wax on my forehead.
I wanted it to leave a mark:
that's how I knew I loved you.
Because I wanted to be burned, stamped,
to have something in the end—
I drew the gown over my head;
a red flush covered my face and shoulders.
It will run its course, the course of fire,
setting a cold coin on the forehead, between the eyes.
You lay beside me; your hand moved over my face
as though you had felt it also—
you must have known, then, how I wanted you.
We will always know that, you and I.
The proof will be my body.
=========
LAMIUM
Louise Glück
This is how you live when you have a cold heart.
As I do: in shadows, trailing over cool rock,
under the great maple trees.
The sun hardly touches me.
Sometimes I see it in early spring, rising very far away.
Then leaves grow over it, completely hiding it. I feel it
glinting through the leaves, erratic,
like someone hitting the side of a glass with a metal spoon.
Living things don't all require
light in the same degree. Some of us
make our own light: a silver leaf
like a path no one can use, a shallow
lake of silver in the darkness under the great maples.
But you know this already.
You and the others who think
you live for truth and, by extension, love
all that is cold.
========
THE NIGHT MIGRATIONS
Louise Gluck
This is the moment when you see again
the red berries of the mountain ash
and in the dark sky
the birds' night migrations.
It grieves me to think
the dead won't see them—
these things we depend on,
they disappear.
What will the soul do for solace then?
I tell myself maybe it won't need
these pleasures anymore;
maybe just not being is simply enough,
hard as that is to imagine.
===============
MOCK ORANGE
Louise Gluck
It is not the moon, I tell you.
It is these flowers
lighting the yard.
I hate them.
I hate them as I hate sex,
the man's mouth
sealing my mouth, the man's
paralyzing body—
and the cry that always escapes,
the low, humiliating
premise of union—
In my mind tonight
I hear the question and pursuing answer
fused in one sound
that mounts and mounts and then
is split into the old selves,
the tired antagonisms. Do you see?
We were made fools of.
And the scent of mock orange
drifts through the window.
How can I rest?
How can I be content
while there is still
that odor in the world?
=========
THE RED POPPY
Louise Gluck
The great thing
is not having
a mind. Feelings:
oh, I have those; they
govern me. I have
a lord in heaven
called the sun, and open
for him, showing him
the fire of my own heart, fire
like his presence.
What could such glory be
if not a heart? Oh my brothers and sisters,
were you like me once, long ago,
before you were human? Did you
permit yourselves
to open once, who would never
open again? Because in truth
I am speaking now
the way you do. I speak
because I am shattered.