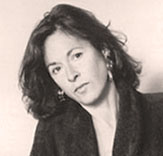 Louise Elisabeth Glück (born April 22, 1943) is an American poet.
She was appointed Poet Laureate Consultant in Poetry to the Library of Congress in 2003, after serving as a Special Bicentennial Consultant three years prior in 2000.
AUBADE
Louise Glück
Today above the gull's call
I heard you waking me again
to see that bird, flying
so strangely over the city,
not wanting
to stop, wanting
the blue waste of the sea—
Now it skirts the suburb,
the noon light violent against it:
I feel its hunger
as your hand inside me,
a cry
so common, unmusical—
Ours were not
different. They rose
from the unexhausted
need of the body
fixing a wish to return:
the ashen dawn, our clothes
not sorted for departure.