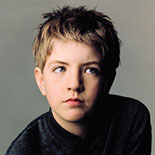 William Wendell "Billy" Gilman III (born May 24, 1988) is an American country music artist.
In 2000, at the age of 11, he debuted with the single "One Voice," a Top 20 hit on the Billboard country music charts and became the youngest singer to a Top 40 hit on the country music charts.
An album of the same name was released later that year on Epic Records, and was certified double platinum in the United States. Following it was a Christmas album Classic Christmas and Dare to Dream, both of which were certified gold. He exited Epic's roster and signed to Image Entertainment in 2005 releasing Everything and More. In 2006, he released the self-titled Billy Gilman. After a number of non-charting releases from 2006 to 2009, followed by a hiatus till 2013, he returned in 2014 with a new single "Say You Will".