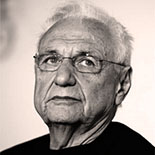 Frank Owen Gehry, (born Frank Owen Goldberg; February 28, 1929) is a Canadian architect, currently a United States resident based in Los Angeles.
A number of his buildings, including his private residence, have become world-renowned tourist attractions. His works are cited as being among the most important works of contemporary architecture in the 2010 World Architecture Survey, which led Vanity Fair to label him as "the most important architect of our age".
Gehry's best-known works include the titanium-clad Guggenheim Museum in Bilbao, Spain; Walt Disney Concert Hall in downtown Los Angeles; Louis Vuitton Foundation in Paris, France; MIT Ray and Maria Stata Center in Cambridge, Massachusetts; The Vontz Center for Molecular Studies on the University of Cincinnati campus; Experience Music Project in Seattle; New World Center in Miami Beach; Weisman Art Museum in Minneapolis; Dancing House in Prague; the Vitra Design Museum and the museum MARTa Herford in Germany; the Art Gallery of Ontario in Toronto; the Cinémathèque française in Paris; and 8 Spruce Street in New York City. But it was his private residence in Santa Monica, California, that jump-started his career, lifting it from the status of "paper architecture"—a phenomenon that many famous architects have experienced in their formative decades through experimentation almost exclusively on paper before receiving their first major commission in later years. Gehry is also the designer of the future National Dwight D. Eisenhower Memorial.