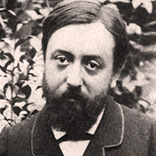 Eugène Henri Paul Gauguin (June 7, 1848 – May 8, 1903) was a leading French Post-Impressionist artist who was not well appreciated until after his death.
Gauguin was later recognized for his experimental use of colors and synthetist style that were distinguishably different from Impressionism. His work was influential to the French avant-garde and many modern artists, such as Pablo Picasso and Henri Matisse. Gauguin's art became popular after his death and many of his paintings were in the possession of Russian collector Sergei Shchukin. He was an important figure in the Symbolist movement as a painter, sculptor, print-maker, ceramist, and writer. His bold experimentation with coloring led directly to the Synthetist style of modern art, while his expression of the inherent meaning of the subjects in his paintings, under the influence of the cloisonnist style, paved the way to Primitivism and the return to the pastoral. He was also an influential proponent of wood engraving and woodcuts as art forms.
Primitivism was an art movement of late 19th-century painting and sculpture; characterized by exaggerated body proportions, animal totems, geometric designs and stark contrasts. The first artist to systematically use these effects and achieve broad public success was Paul Gauguin. The European cultural elite discovering the art of Africa, Micronesia, and Native Americans for the first time were fascinated, intrigued and educated by the newness, wildness and the stark power embodied in the art of those faraway places. Like Pablo Picasso in the early days of the 20th century, Gauguin was inspired and motivated by the raw power and simplicity of the so-called Primitive art of those foreign cultures.