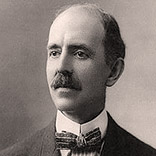 Daniel Chester French (April 20, 1850 – October 7, 1931), one of the most prolific and acclaimed American sculptors of the late nineteenth and early twentieth centuries,
He is best known for his monumental work, the statue of Abraham Lincoln (1920) in the Lincoln Memorial, Washington, D.C.
In 1917, he designed the Pulitzer Prize gold medal presented to laureates. In collaboration with Edward Clark Potter he modeled the George Washington statue, presented to France by the Daughters of the American Revolution; the General Grant statue in Fairmount Park, Philadelphia, commissioned by the Association for Public Art (formerly the Fairmount Park Art Association); and the General Joseph Hooker statue in Boston.