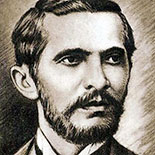 Naim Frashëri (May 25, 1846 – October 20, 1900) was an Albanian poet and writer.
He was one of the most prominent figures of the Albanian National Awakening (Albanian: Rilindja Kombëtare) of the 19th century, together with his two brothers Sami and Abdyl. He is widely regarded as the national poet of Albania.
THE FLUTE
Naim Frasheri
Listen to the flute a-speaking,
Tell the tale of wretched exile,
Weeping for this world of sorrow
Using words of truth to spin it.
Since the day they seized and took me
From my friends and my companions,
Men and women have been weeping
At the echo of my sobbing.
I have rent my breast from beating,
Gaping holes have made within it,
How I've wept and have lamented,
Thousand sighs my heart has rendered.
I'm a friend and blithe companion
Both of this world's happy people
And of all folk sad, embittered,
With them do I make alliance.
Whate'er be the situation,
I can weep and mourn in longing,
At any time and any place will
My heart sigh and be a-moaning.
All the world does listen to me,
Sees though only my appearance,
Of my wishes they know nothing,
Nor the fire that burns within me.
People come and gather 'round me
When I weep and tell of longing,
Yet they do not know my secret,
Thus I find no consolation.
Those abandoned, hearts forsaken,
Of the flute become companions,
Some, its mellow scales a-hearing,
Lose their minds, their wits completely.
Human falsehood and illusion!
The flute's voice is not mere wind, it
Has the fire of love within it
When that lowly reed is fingered.
When it plays, the heavens brighten,
When it plays, do hearts take courage,
When it plays, the summer blossoms,
When it plays, the soul's ecstatic.
To the rose it lends its fragrance,
And to beauty adds an aura,
Gives the nightingale its music,
Charm bestows upon the cosmos.
Of that fire to the heavens
Rising, flickering and flaming,
Does it make the sun and stars which
God within his hands is holding.
From that fire, true God Almighty
All the firmament he fashioned,
Sent the spark of life, creating
Humankind after his likeness.
Fire, oh blessed fire a-blazing,
I with you have been united,
Thus am purified and blended.
Never leave me, my beloved!
==========
WORDS OF THE CANDLE
Naim Frasheri
Here among you have I risen,
And aflame am I now blazing,
Just a bit of light to give you,
That I change your night to daytime,
I'll combust and I will wither,
Be consumed and be extinguished,
Just to give you brightness, vision,
That you notice one another,
For you will fade and tarnish,
Of me there will be no remnant,
I will burn, in tears lamenting,
My desire I cannot suffer.
Of the fire I am not fearful,
I will never be extinguished
If I burn of my desire,
Try to shine as best I'm able.
When you see that I have vanished,
Do not think that I have perished,
I'm alive, among the living,
In the rays of truth I'm standing,
In your souls do I take refuge,
Do not think I'm stranger to you,
Patience was bestowed upon me,
Thus I glow with steadfast courage,
Doing good is all I long for,
That you not remain in darkness.
Forward now and gather 'round me
Talk, smile, eat, drink and make merry,
Love within my soul is harbored,
Yes, for mankind am I burning,
Let me melt and let me smolder,
To grow cold I do not wish for.
Let my wretched corpse be consumed
For our true God the Almighty,
May my lungs scorch, charred to ashes,
For mankind I'll melt and vanish,
With me all man's joys I'll carry,
Bear them to the Lord Almighty.
Humanity is what I long for,
Goodness, gentleness and wisdom,
If you'll with me be companions?
If you'll love me as I love you,
If you all love one another,
Work not for the Prince of Darkness.
Venture towards me, fleeting heart, do
Come, approach this fire a little!
Though the flame may singe your wings, it's
Sure to sanctify your spirit.
With the torch that here consumes me
I the eyes of men have opened,
Been of them a true companion.
I do know them, they do know me,
I've observed them all in passing,
Mothers, kith and kin, and fathers,
All of them are my concern still,
All who lived here on this planet,
Even now I see them 'mongst you,
For I recognize their spirits.
I, like you, have changed, transfigured,
Changed and altered my companions,
Many times have I turned into
Earth and wind and fire and water.
I'm a spark come from the heavens,
From the sun I'm glowing embers,
Through the skies I fly, a-soaring,
And live deep within the ocean,
Often in the soil I sleep or
Take my rest in fruits and honey,
I'm a suckling lamb or kid goat,
Flower, grass or leaves a-sprouting,
So much do I have to tell you,
Yet I fear my speech will fail me.
What's the point to put to paper
Words this flickering tongue's inspired?