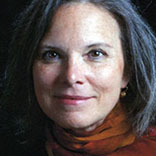 Carolyn Forché (born April 28, 1950) is an American poet, editor, translator, and human rights advocate.
Forché is the author of four books of poetry: Blue Hour (HarperCollins, 2004); The Angel of History (1994), which received the Los Angeles Times Book Award; The Country Between Us (1982), which received the Poetry Society of America's Alice Fay di Castagnola Award, and was the Lamont Poetry Selection of The Academy of American Poets; and Gathering the Tribes (1976), which was selected for the Yale Series of Younger Poets by Stanley Kunitz. Forché is also the editor of Against Forgetting: Twentieth-Century Poetry of Witness (1993).
Among her translations are Mahmoud Darwish's Unfortunately, It Was Paradise: Selected Poems with Munir Akash (2003), Claribel Alegria's Flowers from the Volcano (1983), and Robert Desnos's Selected Poetry (with William Kulik, 1991). Her honors include fellowships from the Guggenheim Foundation, the Lannan Foundation, and the National Endowment for the Arts. In 1992, she received the Charity Randall Citation from the International Poetry Forum. Carolyn Forché teaches in the MFA Program at George Mason University in Fairfax, Virginia.
ELEGY
Carolyn Forché
The page opens to snow on a field: boot-holed month, black hour
the bottle in your coat half voda half winter light.
To what and to whom does one say yes?
If God were the uncertain, would you cling to him?
Beneath a tattoo of stars the gate open, so silent so like a tomb.
This is the city you most loved, an empty stairwell
where the next rain lifts invisibly from the Seine.
With solitude, your coat open, you walk
steadily as if the railings were there and your hands weren't passing
through them.
"When things were ready, they poured on fuel and touched off the fire.
They waited for a high wind. It was very fine, that powdered bone.
It was put into sacks, and when there was enough we went to a bridge
on the Narew River."
And even less explicit phrases survived:
"To make charcoal.
For laundry irons."
And so we revolt against silence with a bit of speaking.
The page is a charred field where the dead would have written
We went on. And it was like living through something again one
could not live through again.
The soul behind you no longer inhabits your life: the unlit house
with its breathless windows and a chimney of ruined wings
where wind becomes an aria, your name, voices from a field,
And you, smoke, dissonance, a psalm, a stairwell.
===========
REUNION
Carolyn Forché
On the phonograph, the voice
of a woman already dead for three
decades, singing of a man
who could make her do anything.
On the table, two fragile
glasses of black wine,
a bottle wrapped in its towel.
It is that room, the one
we took in every city, it is
as I remember: the bed, a block
of moonlight and pillows.
My fingernails, pecks of light
on your thighs.
The stink of the fire escape.
The wet butts of cigarettes
you crushed on after another.
How I watched the morning come
as you slept, more my son
than a man ten years older.
How my breasts feel, years
later, the tongues swishing
in my dress, some yours, some
left by other men.
Since then, I have always
wakened first, I have learned
to leave a bed without being
seen and have stood
at the washbasins, wiping oil
and salt from my skin,
staring at the cupped water
in my two hands.
I have kept everything
you whispered to me then.
I can remember it now as I see you
again, how much tenderness we could
wedge between a stairwell
and a police lock, or as it was,
as it still is, in the voice
of a woman singing of a man
who could make her do anything.