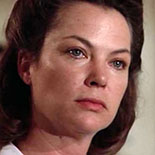 Estelle Louise Fletcher (born July 22, 1934) is an American film and television actress.
Fletcher initially debuted in television series such as Maverick in 1959 before being cast in Robert Altman's Thieves Like Us (1974). The following year, Fletcher gained international recognition for her performance as Nurse Ratched in the 1975 film One Flew over the Cuckoo's Nest, for which she won the Academy Award for Best Actress, BAFTA Award for Best Actress in a Leading Role and Golden Globe Award for Best Actress. Other notable film roles include Brainstorm (1983), Firestarter (1984), Flowers in the Attic (1987), 2 Days in the Valley (1996), and Cruel Intentions (1999).
Later into her career, Fletcher returned to television, appearing as Kai Winn Adami in Star Trek: Deep Space Nine, as well as receiving Emmy nominations for her guest starring roles in Picket Fences and Joan of Arcadia. Most recently, Fletcher has appeared in a recurring role on the Showtime television series Shameless in 2011 and 2012, as Frank Gallagher's foul-mouthed and hard-living mother who is serving a prison sentence for manslaughter.