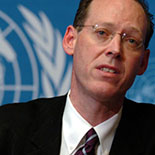 Paul Edward Farmer (born October 26, 1959) is an American anthropologist and physician.
Farmeris best known for his humanitarian work providing suitable health care to rural and under-resourced areas in developing countries, beginning in Haiti.
Co-founder of an international social justice and health organization, Partners In Health (PIH), he is known as "the man who would cure the world," as described in the book, Mountains Beyond Mountains by Tracy Kidder.