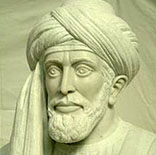 Rabbi Moses ben Jacob ibn Ezra, known as Ha'Sallah ("writer of penitential prayers") was a Jewish, Spanish philosopher, linguist, and poet.
He was born at Granada about 1055 – 1060, and died after 1138. Ezra is Jewish by religion but is also considered a great influence in the Arabic world in regards to his works.
He is considered one of the greatest poets to originate from Spain and was thought of as ahead of his time in terms of theories surrounding the nature of poetry. One of the more revolutionary aspects of Ezra's poetry that have been debated over is his definition of poetry as metaphor and how it fuses Aristotle's early ideas. Ezra's philosophical works were minor compared to his impact on poetry, but they address the relationship that is held between God and man.
Ibn Ezra is considered by many Jews as a masterly Hebrew poet. He specifically focused on the theory of poetry and is considered to be one of the greatest experts on the subject. His secular poems are contained in two works: in the Tarshish, and in the first part of his Diwan.
The "Tarshish" is divided into ten chapters, each of which contains in order the twenty-two letters of the alphabet. It is written in the Arabic style of poetry termed "tajnis," which consists in the repetition of words in every stanza, but with a different meaning in each repetition. The first chapter is dedicated to a certain Abraham (certainly not Abraham ibn Ezra), whose merits he exalts in Oriental fashion. In the nine remaining chapters are discussed: (ch. ii.) wine, love, and song; (iii.) the beauty of country life; (iv., v.) love-sickness and the separation of lovers; (vi.) unfaithful friends; (vii.) old age; (viii.) vicissitudes of fortune, and death; (ix.) confidence in God; (x.) the glory of poetry.
Another one of Ezra's most famous works is the Maḳāla bi 'l-Ḥadīḳa fī maʿnāal-mad̲j̲āz wa 'l-ḥaḳīḳa. The main purpose of this work is to explain to Hebrew poets should model their poems based around the structure of Arabic poems. Ezra's Hadika also primarily addresses the metaphorical interpretation of God and how God is such a powerful and divine being that he could not be interpreted through the human mind but simply through the use of metaphors. This was considered to be one of his most important and influential ideas in the medieval time frame surrounding Jewish ideology.
GRAVES

Moshe Ibn Ezra

And where are the graves, so many graves
Of all who have died on the earth since the beginning?
Grave tunnelling into grave,
Headstone and obelisk crumbled into one dust,
Bodies heaped upon bodies, in motionless orgy—
All sleeping together in deep holes,
Fragments of chalk,
Stained rubies.
========
HEART'S DESIRE
Moshe Ibn Ezra
Heart's hope
and delight of my eyes—
a fawn beside me,
a cup in my hand:
Many have warned me,
but I wouldn't listen;
come, my fawn,
we'll overwhelm them;
Time will wear them away
and death lead them down.
Come, my fawn,
come near and heal me,
with nectar from your
lips for which I've longed.
Why would they
deny me your company,
as though I were being
drawn toward sin?
If your beauty defeats me,
my Lord will be with me.
Pay no attention
to them who dissuade me.
O my stubborn one,
try me—come.
And so he was tempted
and led me home,
where he bowed his shoulder
to the yoke of my burden—
and all through the night
I lay with him:
I stripped off all his clothes
while he stripped mine;
and from each other's
lips we drank our wine.
But once my heart
was trapped by his eyes,
my trespass grew
too great for him.
His anger swelled
and he complained,
rebuking me
and shouting: Stop!
Enough now!
You're forcing me…
Don't be so angry
with me fawn,
that in your rage
you nearly destroy me.
Have mercy, my friend—
just kiss me…
if living's what you
have in mind, sustain me.
But if it's death—
be done and please just kill me!