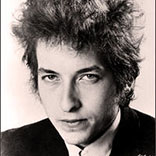 Bob Dylan (born Robert Allen Zimmerman, May 24, 1941) is an American musician, singer-songwriter, artist, and writer.
He has been an influential figure in popular music and culture for more than five decades.
Much of his most celebrated work dates from the 1960s, when he was an informal chronicler and a seemingly reluctant figurehead of social unrest. A number of Dylan's early songs, such as "Blowin' in the Wind" and "The Times They Are a-Changin'", became anthems for the US civil rights and anti-war movements. Leaving behind his initial base in the culture of the folk music revival, Dylan's six-minute single "Like a Rolling Stone" radically altered the parameters of popular music in 1965. His recordings employing electric instruments attracted denunciation and criticism from others in the folk movement.
Dylan's lyrics have incorporated a variety of political, social, philosophical, and literary influences. They defied existing pop music conventions and appealed hugely to the then burgeoning counterculture. Initially inspired by the performance style of Little Richard, and the songwriting of Woody Guthrie, Robert Johnson, and Hank Williams, Dylan has both amplified and personalized musical genres. His recording career, spanning fifty years, has explored many of the traditions in American song—from folk, blues, and country to gospel, rock and roll, and rockabilly to English, Scottish, and Irish folk music, embracing even jazz and swing. Dylan performs with guitar, keyboards, and harmonica. Backed by a changing line-up of musicians, he has toured steadily since the late 1980s on what has been dubbed the Never Ending Tour. His accomplishments as a recording artist and performer have been central to his career, but his greatest contribution is generally considered his songwriting.
Since 1994, Dylan has published six books of drawings and paintings, and his work has been exhibited in major art galleries. As a musician, Dylan has sold more than 100 million records worldwide, making him one of the best-selling artists of all time; he has received numerous awards including Grammy, Golden Globe, and Academy Awards; he has been inducted into the Rock and Roll Hall of Fame, Minnesota Music Hall of Fame, Nashville Songwriters Hall of Fame, and Songwriters Hall of Fame. The Pulitzer Prize jury in 2008 awarded him a special citation for "his profound impact on popular music and American culture, marked by lyrical compositions of extraordinary poetic power." In May 2012, Dylan received the Presidential Medal of Freedom from President Barack Obama.
The Times They Are a-Changin'
Lyrics by Bob Dylan
Come gather 'round people
Wherever you roam
And admit that the waters
Around you have grown
And accept it that soon
You'll be drenched to the bone
If your time to you
Is worth savin'
Then you better start swimmin'
Or you'll sink like a stone
For the times they are a-changin'.
Come writers and critics
Who prophesize with your pen
And keep your eyes wide
The chance won't come again
And don't speak too soon
For the wheel's still in spin
And there's no tellin' who
That it's namin'
For the loser now
Will be later to win
For the times they are a-changin'.
Come senators, congressmen
Please heed the call
Don't stand in the doorway
Don't block up the hall
For he that gets hurt
Will be he who has stalled
There's a battle outside
And it is ragin'
It'll soon shake your windows
And rattle your walls
For the times they are a-changin'.
Come mothers and fathers
Throughout the land
And don't criticize
What you can't understand
Your sons and your daughters
Are beyond your command
Your old road is
Rapidly agin'
Please get out of the new one
If you can't lend your hand
For the times they are a-changin'.
The line it is drawn
The curse it is cast
The slow one now
Will later be fast
As the present now
Will later be past
The order is
Rapidly fadin'
And the first one now
Will later be last
For the times they are a-changin'.