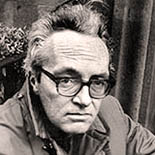 Alan Dugan (February 12, 1923 – September 3, 2003) was an American poet.
His first volume Poems published in 1961 was a chosen by the Yale Series of Younger Poets and went on to win the National Book Award for Poetry and the Pulitzer Prize for Poetry. His last volume, entitled Poems Seven: New and Complete Poetry, was published in 2001 by Seven Stories Press in New York and won Dugan a second National Book Award.
LOVE SONG: I AND THOU
Alan Dugan
Nothing is plumb, level, or square:
the studs are bowed, the joists
are shaky by nature, no piece fits
any other piece without a gap
or pinch, and bent nails
dance all over the surfacing
like maggots. By Christ
I am no carpenter. I built
the roof for myself, the walls
for myself, the floors
for myself, and got
hung up in it myself. I
danced with a purple thumb
at this house-warming, drunk
with my prime whiskey: rage.
Oh I spat rage's nails
into the frame-up of my work:
it held. It settled plumb,
level, solid, square and true
for that great moment. Then
it screamed and went on through,
skewing as wrong the other way.
God damned it. This is hell,
but I planned it. I sawed it,
I nailed it, and I
will live in it until it kills me.
I can nail my left palm
to the left-hand crosspiece but
I can't do everything myself.
I need a hand to nail the right,
a help, a love, a you, a wife.
===========
ON LOOKING FOR MODELS
Alan Dugan
The trees in time
have something else to do
besides their treeing. What is it.
I'm a starving to death
man myself, and thirsty, thirsty
by their fountains but I cannot drink
their mud and sunlight to be whole.
I do not understand these presences
that drink for months
in the dirt, eat light,
and then fast dry in the cold.
They stand it out somehow,
and how, the Botanists will tell me.
It is the "something else" that bothers
me, so I often go back to the forests.