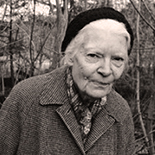 Dorothy Day (November 8, 1897 – November 29, 1980) was an American journalist, social activist, and devout Catholic convert; she advocated the Catholic economic theory of distributism.
Day "believed all states were inherently totalitarian," and was considered to be an anarchist and did not hesitate to use the term. In the 1930s, Day worked closely with fellow activist Peter Maurin to establish the Catholic Worker movement, a nonviolent, pacifist movement that continues to combine direct aid for the poor and homeless with nonviolent direct action on their behalf.
The cause for Day's canonization is open in the Catholic Church, and she is thus formally referred to as a Servant of God.
The Catholic Worker movement started with the publication of the Catholic Worker, first issued on May 1, 1933. It was established to promote Catholic social teaching in the depths of the Great Depression and to stake out a neutral, pacifist position in the war-torn 1930s. This grew into a "house of hospitality" in the slums of New York City and then a series of farms for people to live together communally. The movement quickly spread to other cities in the United States and to Canada and the United Kingdom; more than 30 independent but affiliated CW communities had been founded by 1941. Well over 100 communities exist today.