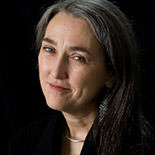 Kate Daniels (born July 2, 1953) is an American poet.
Her poems have appeared in numerous journals and magazines, and have been the recipient of awards including the Best American Poetry 2010, edited by Amy Gerstler; the Best American Poetry 2008, edited by Charles Wright; the Crazyhorse Prize for Poetry; a Pushcart Prize, the Louisiana Literature Poetry Prize, and the James Dickey Prize from Five Points: A Journal of Literature and Art. In 2003, she served as a judge for the National Book Award in Poetry. She has twice been selected to participate in the Lannan Poetry Foundation's Readings & Conversations programs, with Philip Levine and Tony Hoagland.
BATHING
Kate Daniels
He always bathed afterwards,
slipping his fine and sticky
genitals over the cool rim
of the porcelain sink.
She lay in the other room
smoking and staring tiredly
out the window. The tiny sounds
of the suds came to her
worrisomely. The suck-suck
sound of his hand lathering
soap into his tight, dark curls.
Then the farewell groan of the drain.
The energetic flap of the towel.
When he was before her again,
his teeth covered by a smile,
the sweat and stench removed,
she studied him from the crushed
bed, admiring his cruel
beauty, her body still marked
and odorous. His, clean
and unstained, amnesiac
already.