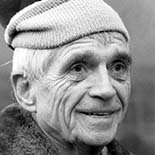 Daniel Joseph Berrigan (May 9, 1921 – April 30, 2016), was an American Jesuit priest, anti-war activist, and poet.
ETTY HILLESUM
Daniel Berrigan
"Here goes then," wrote the woman I never heard of
And, "I don't want to be safe, I want to be there."
Wrote this woman.
She is like a God I never heard of.
She is like a bride I never married.
She is like a child I never conceived.
Like Death? Death she heard of
Death she walked toward, a child lost
In the glowering camps.
After years and years–recognition!
I heard a cry: "my child!"
The ineffaceable likeness. Death
Her child, her semblable.
Wrote, "In such a world I must kneel. Kneel down.
But before no human". In the furnace
Lust and its cleansing, birth and its outcome.
To kneel where the fire burns me, bears me.
Eros, God, Auschwitz.
She wrote: "To live fully
Outwardly, inwardly, my desire. But to renounce
Reality for reality's sake, inner for outer life —
quite a mistake."
Wrote to her love: "Dear spoiled man
Now I shall put on my splendid dressing gown
And read the bible with you."
O singer of songs, O magnificat Mary,
O woman at the well of life!