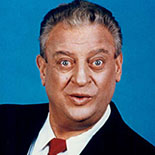 Rodney Dangerfield (born Jacob Rodney Cohen, November 22, 1921 – October 5, 2004) was an American comedian and actor, known for the catchphrase "I don't get no respect!" and his monologues on that theme. He is also remembered for his 1980s film roles, especially in Easy Money, Caddyshack, and Back to School.
At the age of 15, he began to write for standup comedians, and began to perform at the age of 20 under the name Jack Roy. He struggled financially for nine years, at one point performing as a singing waiter until he was fired, and also working as a performing acrobatic diver before giving up show business to take a job selling aluminum siding to support his wife and family. He later said that he was so little known then that "at the time I quit, I was the only one who knew I quit!"
n the early 1960s he started down what would be a long road toward rehabilitating his career as an entertainer, still working as a salesman by day. He divorced his first wife Joyce in 1961 and returned to the stage, performing at many hotels in the Catskill Mountains, but still with minimal success. He fell in debt about $20,000 by his own estimate, and couldn't get booked. As Rodney would later joke, "I played one club…it was so far out, my act was reviewed in Field & Stream."
He came to realize that what he lacked was an "image"—a well-defined on-stage persona that audiences could relate to and that would distinguish him from similar comics. Returning to the East Coast, after being shunned by the premier comedy venues, he began to develop a character for whom nothing goes right.
He took the name Rodney Dangerfield, which had been used as the comical name of a faux cowboy star by Jack Benny on his radio program at least as early as the December 21, 1941, broadcast and later as a pseudonym by Ricky Nelson on the TV program The Adventures of Ozzie and Harriet. The Benny character, who also received little or no respect from the outside world, served as a great inspiration to Dangerfield while he was developing his own comedy character.
On Sunday, March 5, 1967, The Ed Sullivan Show needed a last-minute replacement for another act, and Dangerfield became the surprise hit of the show.
Dangerfield began headlining shows in Las Vegas and made frequent encore appearances on The Ed Sullivan Show. He became a regular on The Dean Martin Show and appeared on The Tonight Show a total of 35 times. In 1969, Rodney Dangerfield teamed up with longtime friend Anthony Bevacqua to build the Dangerfield's comedy club. Rodney now had a venue in which to perform on a regular basis, without having to constantly travel. The club became a huge success. Dangerfield's has been in continuous operation for over 40 years. Dangerfield's was the venue for several HBO shows which helped popularize many standup comics, including Jerry Seinfeld, Jim Carrey, Tim Allen, Roseanne Barr, Robert Townsend, Jeff Foxworthy, Sam Kinison, Bill Hicks, Rita Rudner, Andrew Dice Clay, Louie Anderson, Dom Irrera and Bob Saget.
UCLA's Division of Neurosurgery named a suite of operating rooms after him and gave him the "Rodney Respect Award", which his widow presented to Jay Leno on October 20, 2005. It was presented on behalf of the David Geffen School of Medicine/Division of Neurosurgery at UCLA at their 2005 Visionary Ball.