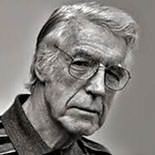 Charles Ainslie Crichton (August 6, 1910 – September 14, 1999) was an English film director and editor.
Born in Wallasey,Cheshire, he became best known for directing many comedies produced at Ealing Studios and had a 40-year career editing and directing many films and television programs.
For the acclaimed comedy A Fish Called Wanda (1988), Crichton was nominated for both the Academy Award for Best Director and the Academy Award for Best Original Screenplay (along with the film's star John Cleese).