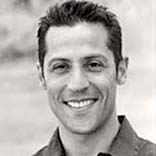 Poet, translator, and editor Peter Covino is associate professor of English and Creative Writing at the University of Rhode Island.
His prizes include the 2007 PEN American/ Osterweil Award for emerging poets and the Frank O'Hara Poetry Prize for his chapbook, Straight Boyfriend (2001).
(Excerpt)
NO APOLOGY
Peter Covino

The dogwood's little fisted worlds
announce the season with such understated vehemence,
like a street-corner missionary passing out his tracts.
But the tiny tree never exhorts us to repent!
And though the dogwood does not perfume the air,
nor offer any medical refuge,
it is nonetheless placid, steadfast.