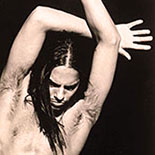 Joaquín Pedraja Reyes "Joaquín Cortés" (born February 22, 1969) is a classically trained ballet and flamenco dancer from Spain.
In 1984, he was accepted as a member of Spain's prestigious national ballet company. He traveled the world with the Spanish National Ballet, performing in important venues such as the Metropolitan Opera House (Lincoln Center) of New York and the Kremlin Palace in Moscow. During his stint with the Spanish National Ballet, he also became a principal solo performer known for his phenomenal stamina and athleticism.
Desiring more creative control, Cortés formed the Joaquín Cortés Flamenco Ballet company and launched his first international tour 'Cibayí' in 1992. The formation of Cortés' own company allowed him to diverge from purist ballet and create his own fusion of flamenco, ballet and modern dance.
Continuing into the millennium, Cortés' focus shifted from dancing to choreography and artistic direction. He continues to dance in a limited capacity live on stage, in film and television. In 2000, landed a role in the film 'Gitano' (Gypsy) and again in 2004 in 'Vaniglia e cioccolato' (Vanilla and Chocolate). In 2001, he also made a guest appearance on Jennifer Lopez's concert in Puerto Rico.