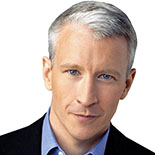 Anderson Hays Cooper (born June 3, 1967) is an American journalist, author, and television personality.
He is the primary anchor of the CNN news show Anderson Cooper 360°. The program is normally broadcast live from a New York City studio; however, Cooper often broadcasts live on location for breaking news stories. In addition he is a major correspondent for 60 Minutes.
From September 2011 to May 2013, he also served as host of his own eponymous syndicated daytime talk show, Anderson Live.