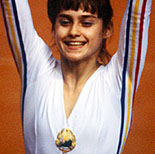 Nadia Elena Comăneci (born November 12, 1961) is a Romanian gymnast, winner of three Olympic gold medals at the 1976 Summer Olympics in Montreal and the first female gymnast to be awarded a perfect score of 10 in an Olympic gymnastic event. She also won two gold medals at the 1980 Summer Olympics in Moscow. She is one of the best-known gymnasts in the world. In 2000 Comăneci was named as one of the Athletes of the Century by the Laureus World Sports Academy.
Comăneci is active in many charities and international organizations. In 1999 she became the first athlete to be invited to speak at the United Nations to launch the Year 2000 International Year of Volunteers. She is currently on the International Board Of Directors for Special Olympics and Vice President of the Board of Directors of the Muscular Dystrophy Association. She has also personally funded the construction and operation of the Nadia Comăneci Children's Clinic, a clinic in Bucharest that provides low-cost and free medical and social support to Romanian children. In 2003 the Romanian government appointed her as an Honorary Consul General of Romania to the United States to deal with bilateral relations between the two nations.
Comăneci received the Olympic Order, the highest award given by the International Olympic Committee, in 1984 and 2004. She is the only person to have received this honour twice, and was also the youngest recipient. She has also been inducted into the International Gymnastics Hall of Fame.