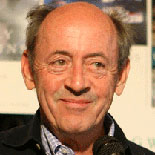 William A. ("Billy") Collins (born March 22, 1941) is an American poet.
Collins served two terms as the Poet Laureate of the United States from 2001 to 2003. In his home state, Collins has been recognized as a Literary Lion of the New York Public Library (1992) and selected as the New York State Poet for 2004.
THE DEAD
Billy Collins
The dead are always looking down on us, they say,
while we are putting on our shoes or making a sandwich,
they are looking down through the glass-bottom boats of heaven
as they row themselves slowly through eternity.
They watch the tops of our heads moving below on earth,
and when we lie down in a field or on a couch,
drugged perhaps by the hum of a warm afternoon,
they think we are looking back at them,
which makes them lift their oars and fall silent
and wait, like parents, for us to close our eyes.
==========
FORGETFULNESS
Billy Collins
The name of the author is the first to go
followed obediently by the title, the plot,
the heartbreaking conclusion, the entire novel
which suddenly becomes one you have never read,
never even heard of,
as if, one by one, the memories you used to harbor
decided to retire to the southern hemisphere of the brain,
to a little fishing village where there are no phones.
Long ago you kissed the names of the nine Muses goodbye
and watched the quadratic equation pack its bag,
and even now as you memorize the order of the planets,
something else is slipping away, a state flower perhaps,
the address of an uncle, the capital of Paraguay.
Whatever it is you are struggling to remember,
it is not poised on the tip of your tongue,
not even lurking in some obscure corner of your spleen.
It has floated away down a dark mythological river
whose name begins with an L as far as you can recall,
well on your own way to oblivion where you will join those
who have even forgotten how to swim and how to ride a bicycle.
No wonder you rise in the middle of the night
to look up the date of a famous battle in a book on war.
No wonder the moon in the window seems to have drifted
out of a love poem that you used to know by heart.
=========
PURITY
Billy Collins
My favorite time to write is in the late afternoon,
weekdays, particularly Wednesdays.
This is how I go about it:
I take a fresh pot of tea into my study and close the door.
Then I remove my clothes and leave them in a pile
as if I had melted to death and my legacy consisted of only
a white shirt, a pair of pants and a pot of cold tea.
Then I remove my flesh and hang it over a chair.
I slide it off my bones like a silken garment.
I do this so that what I write will be pure,
completely rinsed of the carnal,
uncontaminated by the preoccupations of the body.
Finally I remove each of my organs and arrange them
on a small table near the window.
I do not want to hear their ancient rhythms
when I am trying to tap out my own drumbeat.
Now I sit down at the desk, ready to begin.
I am entirely pure: nothing but a skeleton at a typewriter.
I should mention that sometimes I leave my penis on.
I find it difficult to ignore the temptation.
Then I am a skeleton with a penis at a typewriter.
In this condition I write extraordinary love poems,
most of them exploiting the connection between sex and death.
I am concentration itself: I exist in a universe
where there is nothing but sex, death, and typewriting.
After a spell of this I remove my penis too.
Then I am all skull and bones typing into the afternoon.
Just the absolute essentials, no flounces.
Now I write only about death, most classical themes
in a language light as the air between my ribs.
Afterwards, I reward myself by going for a drive at sunset.
I replace my organs and slip back into my flesh
and clothes. Then I back the car out of the garage
and speed through the woods on winding country roads,
passing stone walls, farmhouses, and frozen ponds,
all perfectly arranged like words in a famous sonnet.