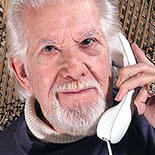 Brian Cobby (October 12, 1929 – October 31, 2012) was an English actor and telephone exchange worker who, in 1985, became the first male voice of the British speaking clock.
When the machinery behind the speaking clock was due to be replaced in the mid-1980s, British Telecom (now BT plc) launched a search for a new voice from among its employees. More than 5,000 staff entered the "Golden Voice" competition, which ended on 5 December 1984 when Cobby, an assistant supervisor at a telephone exchange in Withdean, Brighton, was selected from 12 finalists. The selection was broadcast live on BBC Breakfast Time from the top of BT Tower. The speaking clock had been voiced by female employees since 1936, and the other 11 finalists were female.
The new speaking clock was inaugurated on April 2, 1985, and Cobby's voice was used until April 2, 2007, when it was replaced with that of Sara Mendes da Costa.
During the 1960s, Cobby voiced many television advertisements, including ones for Stork margarine, Surf washing powder and Big Fry, for which George Lazenby's voice was dubbed over with Cobby's. He appeared, albeit briefly, in the film version of Evita (1996), standing next to Madonna in the balcony scene. In 2004, he guest-starred in the Doctor Who audio drama The Creed of the Kromon.