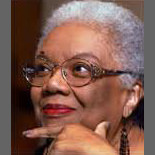 Lucille Clifton (June 27, 1936 – February 13, 2010) was an American writer and educator.
From 1979 to 1985 she was Poet Laureate of Maryland. Common topics in her poetry include the celebration of her African American heritage, and feminist themes, with particular emphasis on the female body.
HAG RIDING
Lucille Clifton
why
is what i ask myself
maybe it is the african in me
still trying to get home
after all these years
but when i awake to the heat of the morning
galloping down the highway of my life
something hopeful rises in me
rises and runs me out into the road
and i lob my fierce thigh high
over the rump of the day and honey
i ride i ride
========
HOLY NIGHT
Lucille Clifton
joseph, i afraid of stars,
their brilliant seeing.
so many eyes. such light.
joseph, i cannot still these limbs,
i hands keep moving toward i breasts,
so many stars. so bright.
joseph, is wind burning from east
joseph, i shine, oh joseph oh
illuminated night.
=========
LIGHT
Lucille Clifton
ray
stream
gleam
beam
sun
glow
flicker
shine
lucid
spark
scintilla
flash
blaze
flame
fire
serene
luciferous
lightning bolt
luster
shimmer
glisten
gloss
brightness
brilliance
splendor
sheen
dazzle
sparkle
luminous
reflection
kindle
illuminate
brighten
glorious
radiate
radiant
splendid
clarify
clear
ROGET'S THESAURUS
========
TO A DARK MOSES
Lucille Clifton
You are the one
I am lit for.
Come with your rod
that twists
and is a serpent.
I am the bush.
I am burning
I am not consumed.