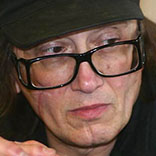 Mihail Chemiakin (Mikhail Shemiakin, born May 4, 1943) is a Russian painter, stage designer, sculptor and publisher, and a controversial representative of the nonconformist art tradition of St. Petersburg.
Mihail Chemiakin spent his early years in East Germany. His father served in the Army there. His family returned to the Soviet Union in 1957 and he studied at the secondary school of art affiliated with the Il'ya Repin Institute of Painting, Sculpture and Architecture in Leningrad (now St. Petersburg). In 1961 he was subjected to forced psychiatric treatment to "cure" him of views that did not conform to Soviet norms.
In 2001, commissioned by the City of Moscow, Chemiakin created a monument "Children Are the Victims of Adult Vices", a group of sculptures in a park 2000 feet south of the Kremlin, behind the British Ambassador's residence. Other sculptures by Chemiakin include Peter the Great in St. Petersburg's Peter and Paul Fortress, Peter the Great in London, Monument to Victims of Terrorism in Vladikavkaz (North Ossetia), Vladimir Vysotsky in Samara, Russia.