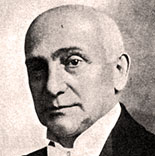 Enrico Cecchetti (June 21, 1850 – November 13, 1928) was an Italian ballet dancer, mime, and founder of the Cecchetti method.
The son of two dancers from Civitanova Marche, he was born in the costuming room of the Teatro Tordinona in Rome. After an illustrious career as a dancer in Europe, he went to dance for the Imperial Ballet in St. Petersburg, Russia, where he further honed his skills. Cecchetti was praised for his agility and strength in his performances, as well as his technical abilities in dance. By 1888, he was widely accepted as the greatest ballet virtuoso in the world.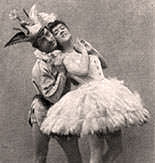 After an esteemed career in Russia, originating such roles as both the Bluebird and Carabosse in Petipa's masterpiece, The Sleeping Beauty, he turned to teaching. Some of his students included other notable dancers of the Imperial Ballet, such as: Anna Pavlova, Léonide Massine, and Vaslav Nijinsky. He also restaged many ballets, including Petipa's definitive version of Coppélia in 1894, from which nearly all modern versions of the work are based. (This version was notated in the early 20th century, and is today part of the Sergeyev Collection). While teaching a class, Cecchetti collapsed and he died the following day, November 13, 1928.
Changes to the choreography of the male variations featured in the works of the Imperial Ballet's repertory. In 1890, Cecchetti performed in the ground-breaking production of The Sleeping Beauty, where his performance as the Bluebird caused a sensation in the audience at the Mariinsky Theatre. The choreography of the Bluebird has challenged male dancers even to the present day.