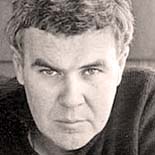 Raymond Clevie Carver, Jr. (May 25, 1938 – August 2, 1988) was an American short story writer and poet.
Carver was a major writer of the late 20th century and a major force in the revitalization of the American short story literature in the 1980s.

He was a Guggenheim Fellow in 1979 and was twice awarded grants from the National Endowment for the Arts. In 1983 Carver received the prestigious Mildred and Harold Strauss Living Award which gave him $35,000 per year tax free and required that he give up any employment other than writing, and in 1985 Poetry magazine's Levinson Prize. In 1988 he was elected to the American Academy and Institute of Arts and Letters and was awarded an honorary Doctorate of Letters from the University of Hartford. He received a Brandeis Citation for fiction in 1988. His work has been translated into more than twenty languages.
THE CURRENT
Raymond Carver
These fish have no eyes
these silver fish that come to me in dreams,
scattering their roe and milt
in the pockets of my brain.
But there's one that comes–
heavy, scarred, silent like the rest,
that simply holds against the current,
closing its dark mouth against
the current, closing and opening
as it holds to the current.
===========
WAITING
Raymond Carver

Left off the highway and
down the hill. At the
bottom, hang another left.
Keep bearing left. The road
will make a Y. Left again.
There's a creek on the left.
Keep going. Just before
the road ends, there'll be
another road. Take it
and no other. Otherwise,
your life will be ruined
forever. There's a log house
with a shake roof, on the left.
It's not that house. It's
the next house, just over
a rise. The house
where trees are laden with
fruit. Where phlox, forsythia,
and marigold grow. It's
the house where the woman
stands in the doorway
wearing sun in her hair. The one
who's been waiting
all this time.
The woman who loves you.
The one who can say,
"What's kept you?"