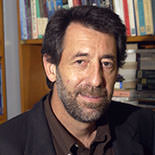 Scott Cairns, PhD (né Scott Clifford Cairns; born 1954) is an American poet, memoirist, librettist, and essayist.
Cairns is the author of eight collections of poetry, one collection of translations of Christian mystics, one spiritual memoir, a book-length essay on suffering, and co-edited The Sacred Place with Scott Olsen, an anthology of poetry, fiction and nonfiction. It won the inaugural National Outdoor Book Award (Outdoor Literature category) in 1997. He wrote the libretto for "The Martyrdom of Saint Polycarp," an oratorio composed by JAC Redford, and the libretto for "A Melancholy Beauty," an oratorio composed by Georgi Andreev. Cairns's poems have appeared in journals including The Atlantic Monthly, The Paris Review, The New Republic, Image, and Poetry, and have been anthologized in Upholding Mystery(Oxford University Press, 1996), Best Spiritual Writing (Harper Collins, 1998 and 2000), and Best American Spiritual Writing (Houghton Mifflin, 2004, 2005, and 2006).
DRAW NEAR
Scott Cairns
For near is where you'll meet what you have wandered
far to find. And near is where you'll very likely see
how far the near obtains. In the dark katholikon
the lighted candles lent their gold to give the eye
a more than common sense of what lay flickering
just beyond the ken, and lent the mind a likely
swoon just shy of apprehension. It was then
that time's neat artifice fell in and made for us
a figure for when time would slip free altogether.
I have no sense of what this means to you, so little
sense of what to make of it myself, save one lit glimpse
of how we live and move, a more expansive sense in Whom.