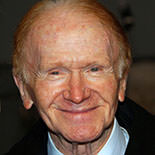 Red Buttons (born Aaron Chwatt; February 5, 1919 – July 13, 2006) was an American comedian and Academy Award winning actor.
At sixteen years old, Chwatt got a job as an entertaining bellhop at Ryan's Tavern in City Island, Bronx. The combination of his red hair and the large, shiny buttons on the bellhop uniforms inspired orchestra leader Charles "Dinty" Moore to call him "Red Buttons," the name under which he would later perform.
He became a nationally recognizable comedian, and his "Never Got A Dinner" routine was a standard of The Dean Martin Celebrity Roast for many years. He was number 71 on Comedy Central's list of the 100 Greatest Stand-Ups of All Time.
Buttons received a star on the Hollywood Walk of Fame for television, his star being located at 1651 Vine Street.