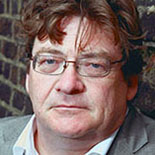 John Burnside (born March 19, 1955) is a Scottish writer.
He is one of only two poets (the other being Sean O'Brien) to have won both the T. S. Eliot Prize and the Forward Poetry Prize for the same book (Black Cat Bone).


SEPTEMBER EVENING: DEER AT BIG BASIN
John Burnside
When they talk about angels in books
I think what they mean is this sudden
arrival: this gift of an alien country
we guessed all along,
and how these deer are moving in the dark,
bound to the silence, finding our scent in their way
and making us strange, making us all that we are
in the fall of the light,
as if we had entered the myth
of one who is risen, and one who is left behind
in the gap that remains,
a story that gives us the questions we wanted to ask,
and a sense of our presence as creatures,
about to be touched.