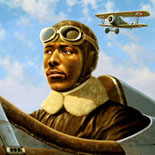 Eugene Jacques Bullard (October 9, 1895 – October 12, 1961), the first African-American military pilot, was born Eugene James Bullard. His life has been surrounded by many legends. Bullard was one of only the few black combat pilots in World War I, like Ahmet Ali Çelikten.
On a visit to Paris, Bullard decided to settle in France. At the outbreak of World War I, according to his personnel file at the French Ministry of Defense, he enlisted on October 19, 1914 in the 1st Regiment of Foreign Legion (1er Régiment étranger) since volunteers from overseas in 1914 were allowed to serve only in the French colonial troops.
Eugene Bullard received fifteen decorations from the government of France. He was made a knight of the Legion of Honor, which is France's most coveted award. He was also awarded the Médaille militaire, another high military distinction in France.
In 1972, Bullard's exploits as a pilot were retold in a biography, The Black Swallow of Death. Bullard is also the subject of the nonfiction young adult memoir Eugene Bullard: World's First Black Fighter Pilot by Larry Greenly.
On August 23, 1994, thirty-three years after his death, and seventy-seven years to the day after the physical that should have allowed him to fly for his own country, Eugene Bullard was posthumously commissioned a Second Lieutenant in the United States Air Force.