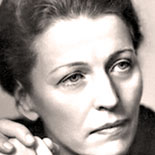 Pearl Sydenstricker Buck (June 26, 1892 – March 6, 1973), also known by her Chinese name Sai Zhenzhu, was an American writer and novelist.
As the daughter of missionaries, Buck spent most of her life before 1934 in China. Her novel The Good Earth was the best-selling fiction book in the U.S. in 1931 and 1932 and won the Pulitzer Prize in 1932. In 1938, she was awarded the Nobel Prize in Literature "for her rich and truly epic descriptions of peasant life in China and for her biographical masterpieces."
After her return to the United States in 1935, she continued her prolific writing career, and became a prominent advocate of the rights of women and minority groups, and wrote widely on Asian cultures, becoming particularly well known for her efforts on behalf of Asian and mixed race adoption.
In 1938 the Nobel Prize committee in awarding the prize said:
By awarding this year's Prize to Pearl Buck for the notable works which pave the way to a human sympathy passing over widely separated racial boundaries and for the studies of human ideals which are a great and living art of portraiture, the Swedish Academy feels that it acts in harmony and accord with the aim of Alfred Nobel's dreams for the future.
In her speech to the Academy, she took as her topic "The Chinese Novel." She explained: "I am an American by birth and by ancestry," but went on to say "My earliest knowledge of story, of how to tell and write stories, came to me in China." After an extensive discussion of classic Chinese novels, especially Romance of Three Kingdoms, All Men Are Brothers, and Dream of the Red Chamber, she concluded that in China, "the novelist did not have the task of creating art but of speaking to the people." Her own ambition, she continued, had not been trained toward "the beauty of letters or the grace of art." In China, the task of the novelist differed from the western artist: "to farmers he must talk of their land, and to old men he must speak of peace, and to old women he must tell of their children, and to young men and women he must speak of each other." And like the Chinese novelist, she concluded, "I have been taught to want to write for these people. If they are reading their magazines by the million, then I want my stories there rather than in magazines read only by a few.
Buck was highly committed to a range of issues that were largely ignored by her generation. Many of her life experiences and political views are described in her novels, short stories, fiction, children's stories, and the biographies of her parents entitled Fighting Angel (on Absalom) and The Exile (on Carrie). She wrote on a diverse variety of topics including women's rights, Asian cultures, immigration, adoption, missionary work, and war.
In 1949, outraged that existing adoption services considered Asian and mixed-race children unadoptable, Buck co-founded Welcome House, Inc., the first international, interracial adoption agency, along with James A. Michener, Oscar Hammerstein II and his second wife Dorothy Hammerstein. In nearly five decades of work, Welcome House has placed over five thousand children. In 1964, to support children who were not eligible for adoption, Buck established the Pearl S. Buck Foundation (now called Pearl S. Buck International) to "address poverty and discrimination faced by children in Asian countries." In 1965, she opened the Opportunity Center and Orphanage in South Korea, and later offices were opened in Thailand, the Philippines, and Vietnam. When establishing Opportunity House, Buck said, "The purpose… is to publicize and eliminate injustices and prejudices suffered by children, who, because of their birth, are not permitted to enjoy the educational, social, economic and civil privileges normally accorded to children."
In the late 1960s, Buck toured West Virginia to raise money to preserve her family farm in Hillsboro, WV. Today The Pearl S. Buck Birthplace is a historic house museum and cultural center. She hoped the house would "belong to everyone who cares to go there," and serve as a "gateway to new thoughts and dreams and ways of life."
Long before it was considered fashionable or politically safe to do so, Buck challenged the American public by raising consciousness on topics such as racism, sex discrimination and the plight of the thousands of babies born to Asian women left behind and unwanted wherever American soldiers were based in Asia. During her life Buck combined the multiple careers of wife, mother, author, editor and political activist.